The Importance of the Library
Apr 1, 2019
By: Robert Velasquez
When thinking of the many classes I have taken that have proven useful, it seems impossible to pinpoint just one that has most positively affected my ministry. However, I can pinpoint the part of Stark College & Seminary that has influenced my ministry most: the library.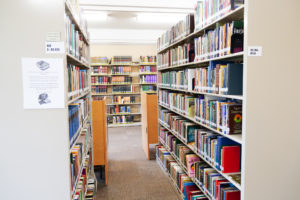 Every class packs an immense amount of knowledge into the minds of the students. The classes may focus on different subjects, but the one thing most have in common is an assigned research paper. I have found myself dreading these papers time and time again, but when I finally get into the library, everything changes.
I walk in with nothing more than a thought and a scripture to research. There are thousands of books in the library, and research can become overwhelming. This is why a good librarian is crucial. Professor Nichols sees me coming from a mile away and can read the fear on my face. She offers her assistance and asks what I want to write about. Once I share my thoughts and scripture, she immediately knows what resources would be helpful, and she shows me where to find them. She sees me struggling to meet deadlines and goes out of her way to help me meet them. Professor Nichols exemplifies the selfless, encouraging service that Jesus taught His disciples to do.
After the paper is written and the desired grade is achieved, I have often wondered, "How did writing a research paper help me in ministry?" The answer is simple. The time spent studying constantly deepens my understanding of God's word so that when I teach in my church and community, I am able to teach with much greater confidence and conviction.