Student Profile: Norma Bennett
Mar 19, 2019
Written by: Norma Bennett
This college is like my family. When I walk in, I am greeted with "Hello Norma" by my fellow students. The professors all know us by name. Going back to college at my age takes a lot of courage and support from the Lord. Without God and the amazing faculty and staff at SCS, I would not have made it this far.
Three years ago, I abruptly lost my husband, and my whole life was thrown upside down. In the middle of the sorrow and trying to figure out what my "new normal" would look like, I heard God tell me to go back to school. He told me to get a degree so I could act as a grief counselor to other women experiencing loss. My pastor and I had discussed starting a widows/singles group, but without an education and still reeling from my own loss, I did not feel ready to start the group. So I looked around at different Christian colleges, that way I could learn more about God and how to lead others. I decided to stay close to home and enrolled at Stark College & Seminary in 2017.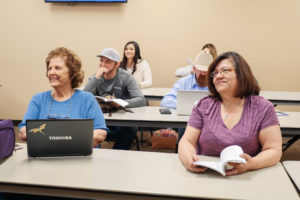 I will never forget my very first class here. I was still dealing with grief, and I couldn't help but cry in class from time to time. I was filled with doubt and fear as I wondered if I missed my call and should just quit. However, my professor, Dr. Tony Miranda, sat with me in my grief and helped me adjust to my new life. He encouraged me to stick with classes and my call from God.
In addition to Dr. Miranda, Dr. Walter Jackson also took the time to care for me in my time of need. One day, after crying most of his class, he came up to me and began reading 2 Corinthians 1:3-5. After he finished, he told me, "Your hope is in the Lord. Let him comfort you and help you." In a world where widows are often forgotten or pitied, Dr. Jackson shared the love of Christ with me continually and constantly reminded me Jesus is my true comforter and source of peace.
After taking classes for a year, I finally felt God telling me I was ready to put what I was learning to use. I went to my pastor and told him I was ready to start the widows/singles group. 
I have witnessed God change the lives of these women through our group. We meet every other month and have a small bible study and talk. In accordance with what I learned in Dr. Chris Stapper's class on Creative Teaching, after the lesson every week, we then go out and do something for others. From taking food to other widowers to just going over and playing dominoes with them, we find a way to give back to our community every time we meet.
Without my classes and the community at Stark College & Seminary, I don't know where I would be. God has changed my life and opened new doors through this college. I now feel confident in my call and equipped to lead others. Even though every day is still hard, I know God is with me and using my experiences to help other widows in need.