Stark College & Seminary Forms Academic Partnership with Victoria College
Mar 22, 2019
VICTORIA, TX – March 21, 2019 – Stark College and Seminary has signed a memorandum of understanding with Victoria College to create an academic relationship between the two higher education institutions. In order to provide Stark College & Seminary bachelor students with the opportunity to take their general education credits at local community colleges and to recruit potential students from local community colleges, the SCS academic team has sought to build intentional relationships with those local colleges called Memorandums of Understanding (MOU). These MOUs ensure ease of transfer for our students who require general education courses, as well as the promotion of SCS degree programs at the local colleges.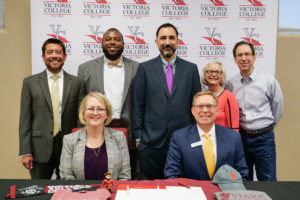 On Thursday, March 21, Dr. Tony Celelli signed our first MOU with Victoria College in Victoria, TX. "This is an exciting step for SCS as we provide even more accessible ways for students to earn their Bachelor of Arts in Ministry degree," says Dr. Tony Celelli. Victoria College is located across from the SCS Crossroads extension site that meets at the Guadalupe Baptist Associational Office.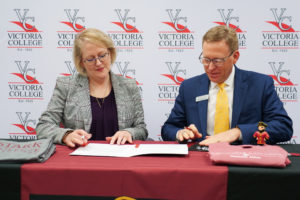 The benefit of this MOU for Victoria College is to provide a smooth transition for potential bachelor students who wish to continue their education in the Bachelor of Arts in Ministry at SCS. In exchange for an easy transition for their graduates, Victoria College will promote SCS and its programs in their transfer office. "I am looking forward to our students having more opportunities," says Cindy Buchholz the Vice President of Instructional Services at Victoria College.  "This collaboration gives them another avenue to pursue those opportunities."
SCS is extremely excited about this opportunity to partner with another local South Texas college. We look forward to a bright future of jointly assisting South Texas students to reach their educational goals!