Professor Profile: Professor Tracy Anderson-Tellado
Dec 17, 2018
"I remember when I was one of only three women here at SCS. Now, there are so many women that I actually have to wait in line for the restroom," jokes Professor Tracy Anderson-Tellado. "But in all honesty, I have seen God move to expand the reach of SCS to bring more students here than ever before."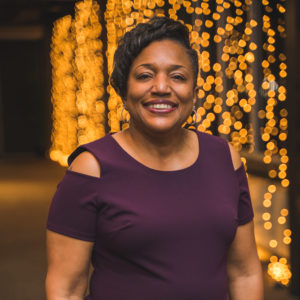 A graduate of Wesleyan College with a Bachelor of Arts degree in English Literature and a member of the US Air Force for nine years, Professor Anderson-Tellado did not come to faith until later in life. "I grew up in the Catholic faith. I pretty much stopped going to church and thinking about anything like that after I graduated and left home at seventeen," Professor Anderson-Tellado tells us. "I thought of Christianity as being only about 'following the rules,' and I figured that now was my time to do whatever I wanted. Although, I will add I never stopped believing in God or Jesus, and I always went to church when I would visit my parents."
However, when Professor Anderson-Tellado was in her early thirties, everything changed. "At the time, I knew that I was living in a way which was not the best and that I had to make a change. I had a friend who modeled the Christian walk, and I realized that she had something that I wanted and needed. I went to her church one Sunday and gave my life to Christ on that very day in August of 2001," Professor Anderson-Tellado shares.
In 2010, Professor Anderson-Tellado came to SCS as a MDiv student. "I graduated in 2016, and Dr. Celelli invited me to teach in the Certificate program which I began doing that fall," she says. "Surprisingly enough, I never thought of myself as one who was particularly called to teach until Dr. Celelli asked me to consider it. That being said, I love it. I love being able to encourage students; particularly those who are returning to an academic environment after what may often be a decades long hiatus. I am glad to be part of Stark College & Seminary because I have no doubt that there are so many of our students who would not be anywhere else if they weren't with us."
Academically, Professor Anderson-Tellado specializes in the relationship between Christianity, the Gospel, and the topic of Social Justice. Last year, she was invited along with with Dr. Jackson to present a paper at The Memphis Teach-In. This event commemorated the 50 year anniversary of MLK Jr.'s assassination and focused on the topic of the church's role in addressing racial injustice.
Outside of SCS, you can find Professor Anderson-Tellado as the Associate Pastor of Community Relations at South Shore Christian Church, singing in any church choir she can find, spending time with her husband Edward and their two children BreeAnn and Brandon, or reading and people watching at Barnes & Nobles. Make sure you catch her Introduction to Christian Ethics class next semester. She says, "This is one of my favorite classes to teach as we have so much to wrestle with in this world, and we need to be able to look at the hot button and even everyday issues through a solidly Christian worldview."