Professor Profile: Primitivo Pagayon
Dec 14, 2018
"Since I was a kid, it's been my desire to serve God," says Professor Primitivo Pagayon. "Originally, I wanted to become a priest, but the Lord led me to become a believer, to be discipled, and then placed me into the ministry."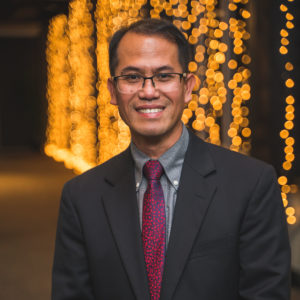 Growing up in Iloilo, Philippines, Professor Pagayon was raised Roman Catholic and first heard the Gospel at a Bible study during his freshman year of high school. "I thought I was a really good person, but Romans 3:23 convicted me of my own sins which led me to accept Jesus as my personal Lord and Savior," he shares.  
So how did Professor Pagayon get to South Texas? "I left the Philippines to be with my wife who was working as a nurse at Dolly Vensant Hospital in San Benito," Professor Pagayon tells us. "I moved here two weeks after our wedding in October of 1996 and have called Harlingen home ever since." Once here, Professor Pagayon built upon his Bachelor of Science in Business Management from the University of the Philippines by receiving his Teaching Certificate from the University of Texas Rio Grande Valley and his Master of Divinity at Logsdon Seminary. "I was thankful to get the opportunity to research church leadership in my studies," Professor Pagayon says. "I am intrigued with how church leadership has become so hierarchical through the years, the rise of denominations, and the doctrine of the Trinity."
After he graduated from the Logsdon program, he was offered a core faculty position at SCS. "I have seen the Lord expand the territory and influence of the college in the Corpus Christi area and especially the Rio Grande Valley," Professor Pagayon says. "I want everyone to know about SCS and how our mission is to equip the educationally underserved followers of Christ to serve the church and community in places where pastors and church leaders normally do not have the opportunity to pursue a theological education." 
Outside of SCS, Professor Pagayon is the founding pastor of Jubilee Christian Fellowship and very involved with the local Filipino Community of South Texas. You can find him preparing income taxes, playing basketball, gardening in his backyard, and fishing at South Padre Island.