Professor Profile: Dr. Celeste Gonzalez-Moreno
Dec 5, 2018
"I love how welcoming SCS is to everyone," says Dr. Celeste Gonzalez-Moreno. As one of our newest core faculty members at our McAllen campus, one of the reasons Dr. Gonzalez-Moreno was initially drawn to Stark College & Seminary is the college's commitment to diversity and multiculturalism.
"I initially spoke with Dr. Jena Dunn who shared the vision and mission of SCS with me," continues Dr. Gonzalez-Moreno. "After a series of interviews, I was hired. I know that it was God who orchestrated my journey to SCS, and I am grateful for the opportunity to be part of the ministry and education that is provided through our college."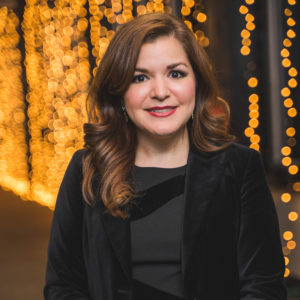 Dr. Gonzalez-Moreno first felt called to teaching when she received her Bachelor of Arts in Religious Studies and English from The University of Texas at Austin. This calling matured as she pursued a Master of Arts in Theological Studies from Austin Presbyterian Theological Seminary and a Doctorate in Theological Studies from Regent University where she wrote her dissertation about the significance of the "ostrich" and war horse in the animal discourse of Job 38:39 – 39:30. Her area of expertise is the Old Testament, especially the "Divine Speeches" in the book of Job including the role of Leviathan and Behemoth. Before SCS, she worked as an English teacher and literacy coach for various schools in South Texas. Now, Dr. Gonzalez-Moreno is thrilled to continue pursuing her vocational calling as a professor at Stark College & Seminary.
"I love sharing the knowledge that I have acquired and interacting with students," Dr. Gonzalez-Moreno shares with us. "I greatly enjoy deep theological discussions with students and witnessing that 'aha' moment that happens when students realize something that they had not previously considered or they suddenly understand a concept that was previously perplexing to them. It is such a joy and blessing to not only be a part of their educational journey but also their spiritual formation."
Dr. Gonzalez-Moreno is excited to work with a team whose mission is equipping leaders within the local church with the purpose of expanding the Kingdom of God. Outside of SCS, you can find Dr. Gonzalez-Moreno with her husband and her two kids watching Peppa Pig, reading, playing violin, and serving at The Family Church.