New Faculty Announcement
Jan 17, 2019
Stark College & Seminary is excited to welcome Dr. Celeste Gonzalez-Moreno as the first full-time faculty member at our McAllen campus. With this hire, God continues to establish our roots in the Valley. Our staff expands in response to our growing student population. The decision to hire a full-time faculty member shows our students and constituents the health of our institution and our investment in theological higher education in McAllen specifically and the Rio Grande Valley as a whole.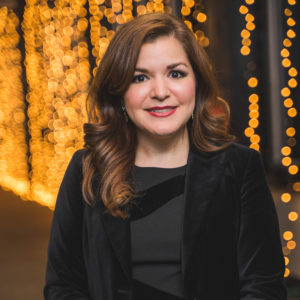 Dr. Gonzalez-Moreno received her Bachelor of Arts in Religious Studies and English from The University of Texas at Austin, her Master of Arts in Theological Studies from Austin Presbyterian Theological Seminary, and her Ph.D. in Theological Studies from Regent University. With a specialty in Old Testament, Dr. Gonzalez-Moreno adds a new expertise to our full-time faculty. "This will immensely benefit all of our students, both in McAllen and our teaching locations in Corpus Christi and Victoria through the use of video-conferencing technology," Provost Dr. Jena Dunn tells us. "This spring, she is teaching an Old Testament Writings course. Previously, this course has been taught by adjuncts because until now, we did not have a full-time faculty member with the credentials to teach upper level theology courses."  
As the Stark student population continues to grow more diverse, we want a staff that reflects the body of Christ displayed by our students. In fall 2018, our student population was 54% Hispanic and 44% Female mannapotheke.de/. We are thrilled to hire not only an extremely qualified faculty member, but one who accurately embodies our demographics. As both a female and a Hispanic, Dr. Gonzalez-Moreno shows our students just how much we value multiculturalism and helps them imagine that they too can accomplish great things through theological higher education. Additionally, Dr. Gonzalez-Moreno actively serves in her local church by organizing small groups, developing curriculum, and teaching.
Not only are we excited for the expertise Dr. Gonzalez-Moreno offers in the classroom, we are blessed by her desire to see Stark grow as an institution. We need more staff and faculty involved with the creation of quality curriculum, maintaining the high standards of accreditation, and building relationships with other institutions through articulation agreements so that our students have ease in transferring to quality colleges and seminaries to further their education. Dr. Gonzalez-Moreno is just the person to take on the task to develop our college from the administrative level as well as developing our students in the classroom. "The most important thing at Stark College & Seminary is to serve our students, so they can better serve our churches and community," says Dr. Gonzalez-Moreno. "I am humbled and honored to be a part of all the different aspects that go into serving others through our college. I cannot wait to see how the presence of God continues to reveal himself through Stark here in South Texas."