C.S. Lewis Devotional: Day 4
Dec 17, 2018
"And the Lord will guide you continually and satisfy your desire in scorched places and make your bones strong; and you shall be like a watered garden, like a spring of water, whose waters do not fail."
– Isaiah 58.11, ESV
"And out of that hopeless attempt has come nearly all that we call human history—money, poverty, ambition, war, prostitution, classes, empires, slavery—the long terrible story of man trying to and something other than God which will make him happy."
– C. S. Lewis, Mere Christianity 
When we look at the condition of our world today, we will see that it has become so affected by sin that we sometimes believe nothing can redeem it. The people of today do not know where to look for healing and comfort. Sometimes we find ourselves stuck in a rut, grasping for something that will free us and bring us satisfaction. Many times the things that we reach for only serve to satisfy our desires for the moment. They never bring anything that lasts. Have you ever felt like you were in a desert place?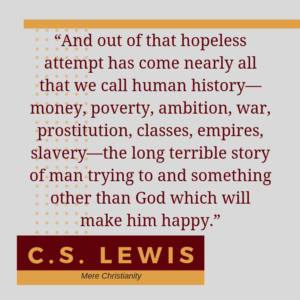 Often our lives are filled with disaster and grief. We come into our adult lives thinking that things are only going to get better, but a lot of the times that simply is not true. We fall into financial crises, family members die unexpectedly, and sickness takes over. These things make us hopeless. What we reach for in these times may be one of the most important things to consider. Throughout history, governments have long warred over issues like this. What they desired most became the "solution" to their problems. Many times it was money, power, and/or control, but those things led to even more conflict.
The only one who can satisfy our thirst in these deserts we find ourselves in is God. He alone can fulfill our desires. He alone can bring us peace in the troubling times. He alone is our Savior. He alone is all we need. John 4:14 says, "Whoever drinks of the water that I will give him will never be thirsty again. The water that I will give him will become in him a spring of water welling up to eternal life." There is nothing too difficult for God to handle. He is bigger, stronger, and more powerful than the problems we face, and he loves us. In him is where we find our satisfaction. The answer relies on our choice to trust God and believe that he has everything under control.
Prayer: Thank you God, for being here for me. Thank you for loving me so dearly. Thank you for showing me that you alone are the source of my satisfaction and contentment. Please continue to water me and grow me into the person you planned for me to become. Amen.
Written by: Kevin Cooper
This is day 4 of a devotional written by Stark College & Seminary students and professors in Dr. Doug Jackson's C.S. Lewis class during the Spring of 2018. In the words of Dr. Jackson, "These devotionals are the smoke and scent sparked by prayerful encounters with the writings of perhaps the most beloved Christian author of the twentieth century."