C.S. Lewis Devotional: Day 2
Dec 10, 2018
"This I say, therefore, and testify in the Lord, that you should no longer walk as the rest of the Gentiles walk, in the futility of their mind, having their understanding darkened, being alienated from the life of God, because of the ignorance that is in them, because of the blindness of their heart; who, being past feeling, have given themselves over to lewdness."
– Ephesians 4.17-19, NKJV
"Let him do anything but act…Active habits are strengthened by repetition but passive ones are weakened. The more often he feels without acting, the less he will be able ever to act, and, in the long run, the less he will be able to feel."
– C. S. Lewis, The Screwtape Letters
In the sphere of our bodies there is a battle. In the clinking of swords and battle cries your very name is echoed throughout, for the battle is in the innermost center of who you are. This battle goes beyond our three-dimensional world. The battle is "against principalities, against powers, against the rulers of the darkness of this age, against spiritual hosts of wickedness in the heavenly places" (Eph 6:12).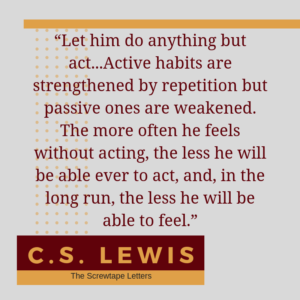 In this battle, there is a decision to make: either act or withdraw. To withdraw from the battle is to passively act and fall into the hands of the enemy. Paul would say that you are giving yourself over to lewdness, and in blindness you have even become numb to wickedness
In The Screwtape Letters, the demon, Wormwood, has a patient that comes to repentance and spoils the devil's diabolical joy. Though the patient receives grace from God, Wormwood's uncle, Screwtape, advises Wormwood to redeem the situation by keeping the patient from acting in his repentance. Screwtape explains it is fine for the patient to feel the repentance, so long as he does not act. This will eventually lead the patient to not feeling at all, with the feeling ultimately dissipating with change.
Paul says in Ephesians 4 that if we receive grace and testify of the Lord Jesus then we should not be a subject to such a matter. We will act on our repentance rather than withdraw, and, "Put on the new man which was created according to God, in true righteousness and holiness" (Eph 4:24).
Prayer: Father, open our eyes to the battle waging war within us, and make us to act in our repentance rather than withdraw. Amen.
Written By: Preston Antunez
This is day 2 of a devotional written by Stark College & Seminary students and professors in Dr. Doug Jackson's C.S. Lewis class during the Spring of 2018. In the words of Dr. Jackson, "These devotionals are the smoke and scent sparked by prayerful encounters with the writings of perhaps the most beloved Christian author of the twentieth century."