Arnold and Deborah Moreno Receive 2020 Hand and Dove Award
Nov 4, 2020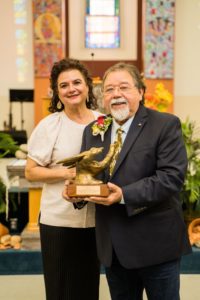 For the last 12 years, Stark College and Seminary has hosted the annual Hand and Dove Scholarship Banquet. The banquet is the college's way of recognizing the lifetime achievement and accomplishments of a community leader who exhibits selfless service. The honoree receives the Hand and Dove award. The Hand and Dove Award represents the highest honor the college trustees bestow upon someone and acknowledges one's outstanding achievement, dedication, and perseverance in serving God and his people. Unfortunately, the COVID-19 pandemic forced SCS to cancel the banquet, but the pandemic did not alter the plans to award a worthy recipient of the high honor. The recipients of the 2020 Hand and Dove Award were Pastor Arnold and Deborah Moreno.
Pastor Moreno and his wife Deborah have spent a lifetime bearing witness to the love of Christ. Arnold is both a bi-vocational pastor in Robstown and a civil engineer specializing in windstorm construction. Deborah is a 21-year veteran teacher. Together they lead and love the wonderful people at Calvary Fellowship Church in Robstown where they have pastored since 1999.
In addition to their ministry at Calvary Fellowship, Pastor Arnold and Deborah Moreno established the Y.G. Moreno Encouraging and Equipping Scholarship endowment fund that supports students at Stark College & Seminary with special consideration for those with diagnosed learning disorders, physical handicaps, and/or financial need. This scholarship is intended to encourage students with unfulfilled academic dreams to earn a college and seminary degree for service to the church and community. It is named in honor of Pastor Arnold's father, Ygnacio G. Moreno.
This year's service was truly a unique opportunity because the award was presented to Pastor Moreno at his church, Calvary Fellowship in Robstown, Texas during Pastor Appreciation month. Dr. Tony Celelli, President of Stark College and Seminary, delivered a stirring message that highlighted the legacy of a lifetime spent leading others to follow Jesus Christ. Along with the congregation and other SCS staff members, there were many family members present to celebrate with Arnold and Deborah.
In this difficult season, one of the best ways to find joy in the difficulty is to remember the many blessings God has given. As you consider God's blessings in your life, would you consider being a blessing to someone else? This fall, SCS enrollment increased but the cost to deliver education has also soared. It is critical that we persevere in doing God's good work in ensuring men and women have access to affordable theological education. Would you consider making a God-sized gift to Stark College & Seminary? Your contribution is completely tax deductible and desperately needed. You can visit equipaleader.org to make a contribution today.