2018 Hand and Dove Scholarship Banquet
Nov 12, 2018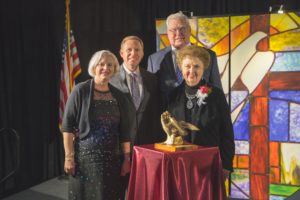 On November 1, 2018, Stark College and Seminary celebrated the incredible ways God is moving in South Texas at our annual Hand and Dove Scholarship Banquet. Since 2008, the trustees of Stark College and Seminary have used this occasion to recognize an outstanding member of the community for their dedication to Christian service and leadership.
This year, Stark College and Seminary had the great honor of bestowing the Hand and Dove Award upon Thetis and the Honorable Loyd Neal. Not only are the Neals active members of First United Methodist Church, their dedication to serving others extends into many aspects of the Corpus Christi community. Judge Neal was a member of the United States army for over 30 years, has served on numerous boards and commissions throughout Texas, served 4 terms as the mayor or Corpus Christi, and served 2 terms as Nueces County Judge. Thetis educated countless children as an elementary school teacher and currently is nationally known for her award winning yorkshire terriers. Both Thetis and the Honorable Loyd Neal continue to leave an indelible mark on our community and those around us.
In addition to Thetis and the Honorable Loyd Neal, we were blessed by the presence of Dr. Ellis Orozco as our keynote speaker. Dr. Orozco serves as pastor of First Baptist Church in Richardson, Texas. His speech noted the importance of supporting one another and working hard to pursue God's will. It was moving to hear Dr. Orozco's personal stories about the sacrifices his family made to ensure that he had an opportunity to pursue his education.
This year's banquet truly showcased the incredible generosity of the members of our community and their many special talents and gifts. All of the money we raised goes directly to student scholarships and to creating an affordable Christian education for local pastors and Christ followers. This would not be possible without all of our event and table sponsors and every person who purchased a ticket or made a donation. We are constantly in awe of God's provision, and this year's Hand and Dove Scholarship Banquet showcased once again the incredible ways in which God is moving here in South Texas.
We look forward to this next year and confidently pray for God to continue prospering the ministry taking place at our college. We thank you for your support and are excited for you to join us as we start a new chapter of excellence at Stark College and Seminary.