Professor Profile: Professor Andres Garcia
Jan 9, 2019
"My father and mother raised me in the church, so at an early age I accepted Jesus into my life," says Professor Andres Garcia. "However, it was not until SCS that I completely knew what that meant. It was then when I started to truly understand that I could have a real relationship with God through Jesus Christ, and my life has not been the same since."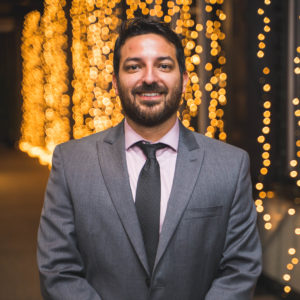 As a Corpus Christi native, Professor Garcia has spent most of his life in South Texas. A graduate of TAMU-CC with a BS and Math Minor, he worked at Annapolis Christian Academy as a teacher and coach, as well as at a few different high schools throughout the region. However, in 2006, everything began to change. After his sister took certificate classes at SCS, Professor Garcia felt called to apply for the Master of Divinity program. "I applied and was accepted, and I have loved it ever since," he tells us.
Through his classes and experiences at SCS, Professor Garcia began discerning his call. "I am a teacher at heart," he says. "I feel teaching and equipping pastors and ministers for work in the church and community is important and something God has called me to do." For the past 4 years, he has taught courses here at SCS, and in 2018 he accepted the position of Director of Undergraduate Studies. "I wish everyone knew how much taking classes here helps your faith," he says. "I believe all Christians should take a class or two here."
With an ever growing desire to learn more about God, Professor Garcia is currently pursuing a Doctorate of Ministry through Logsdon Seminary. Although he has not yet started his dissertation, the topic that intrigues him most is spiritual formation. "I believe that spiritual formation is the living out of Christianity in a person's life," Professor Garcia shares with us. "Spiritual Formation is the process of becoming more like Christ and alive in Christ. I believe that spiritual formation is one of the most important parts of Christianity because it encompasses so many aspects of Christianity including belief, discipline, sanctification, and evangelism. When I start my dissertation, I hope to figure out how to make spiritual formation go from an individual perspective to a church as a whole."
When Professor Garcia is not at SCS, you can find him preaching at New Song Fellowship Church, spending time with his wife and three children, or enjoying sports and movies.