Educational Roots
Oct 6, 2020
This article was written by Andres Garcia, Acting Director Certificate Programs at Stark College & Seminary and Pastor of New Song Fellowship Church.
---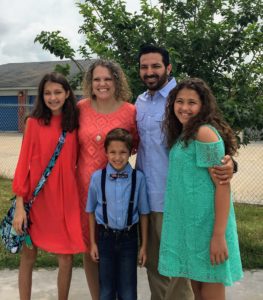 I come from a big educated Hispanic family. My mother has a Masters of Arts in Spanish and although my father only has his high school degree, he knows the value of education and has been an example of Christ in my life. I have two older brothers who are medical doctors as well so I have been blessed with examples of Hispanics in higher education. Even my sister, who graduated from SCS, paved my way to SCS.
I received my Bachelors of Science from TAMUCC. After a few years of teaching, I wanted to go to seminary to take a few Bible classes. Although I never really faced hardships in my undergraduate education for my ethnicity, I never considered myself capable of achieving a Master's degree. I was working full time, serving as an assistant pastor, with a wife and children. I did not see how I was going to earn a Master's degree.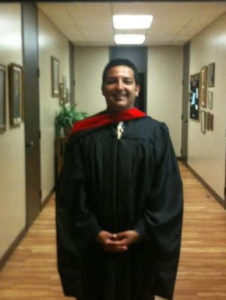 When I came to SCS, the faculty and staff pushed me and had me believing I could not only achieve my Master's but also my Doctorate. They wanted me to be my best no matter what my ethnicity. What kind of higher educational institution goes above and beyond to help and encourage you in your educational goals? Stark College and Seminary does!
I became an ordained minister at my church New Song Fellowship Church in 2011, and I graduated in 2012 with my Masters of Divinity from Logsdon Seminary through SCS. A few years later I began teaching as an adjunct professor for SCS. During that time, President Celelli, Dr. Joe Rangel and Dr. Doug Jackson each told me I should apply to a doctoral program. Although I was blessed to have family members who were doctors, I myself never considered achieving my Doctor of Ministry. But I decided to take the next step and applied and was accepted into a Doctor of Ministry program.
Being a Doctoral student at another seminary has been challenging. None of my professors are Hispanic, and I am the only Hispanic student in the 3 years around my cohort. Though having no one of your ethnicity around you can be discouraging, I have felt welcomed at my school. There are not many Hispanic Doctors of Ministry in South Texas. That has become a push for my doctorate. I want to make sure that Hispanic students, minority students, and all students, in general, have an example of what can be accomplished with help from family, friends, and a school like SCS to encourage you along the way. As the pastor of New Song Fellowship Church and a professor at SCS, I want to be an example that people can achieve things they never dreamed possible with help from the goodness of God.
Although my ethnicity might be different, what has brought me together with others is that we are all children of God. Galatians 3:28 says, "​There is neither Jew nor Greek, there is neither slave nor free, there is no male and female, for you are all one in Christ Jesus."​Jesus Christ humbled himself to the point of death on the cross for us all and was raised for our justification. We should celebrate that with our brothers and sisters in Christ at schools, churches, and in the community.